I wouldn't call myself a Vacation Rental Design expert when I arrived in the UK 18 months ago, as I was still practising brand design. 
However, I have spent countless hours reading and learning about my passion for Vacation Rental Design, also staying in over 40 for the past 18 months.
From Airbnb homestays to boutique 5-star getaways, some properties I stayed in were head and shoulders above others yet charged similar rates.
And I have spent many years practising what it takes to create a getaway in my own life. 
>>>>
What Led Me To Guide Property Owners In Transforming Their Holiday Getaways.
>>>>
Staying in 40 Getaways in 18 months
South Africa, then 20 years in Australia, and recently arriving in the UK, we started our journey to explore the beautiful English Countryside with a vision to seek our next home in a quaint English village and a desire to remain flexible, staying in only holiday accommodation.
We committed to only short stays in beautiful getaways, thinking it would take a couple of months to secure a home. However, buying a home in the UK is more complicated and has seen us stay in many more getaways than planned.
Still, reflection has allowed me to see property owners' potential in offering a better experience for their guests who want to stay in beautiful places.
Creating story-driven designs
Working in South Africa as a lead designer for ten years, creating men's and women's fashion. The trend was creating story-driven designs involving travelling internationally to fairs, staying in hotels and soaking up the local history, igniting my initial wanderlust for travel. On-return designing ranges that were influenced by international trends.
Beautifully designed safari lodges
My love of the African Bush started in my twenties when we would visit several safari lodges and come away with incredible stories. The excitement of venturing into the wild and the luxury of staying in a beautifully designed space stayed with me. Lodge design has always intrigued me, from "the experience" created to the "attention to detail".
Eco African Travel Agency Award
Returning to study interior design in Australia led me to enter my final project, an "Eco African Travel Agency", into the annual Australasian Student Design Awards. An awards program that aims to elevate the region's high-achieving undergraduate design students. Winning the award highlighted my love of themed, story-driven design and gave me confidence in my ability.
>>>>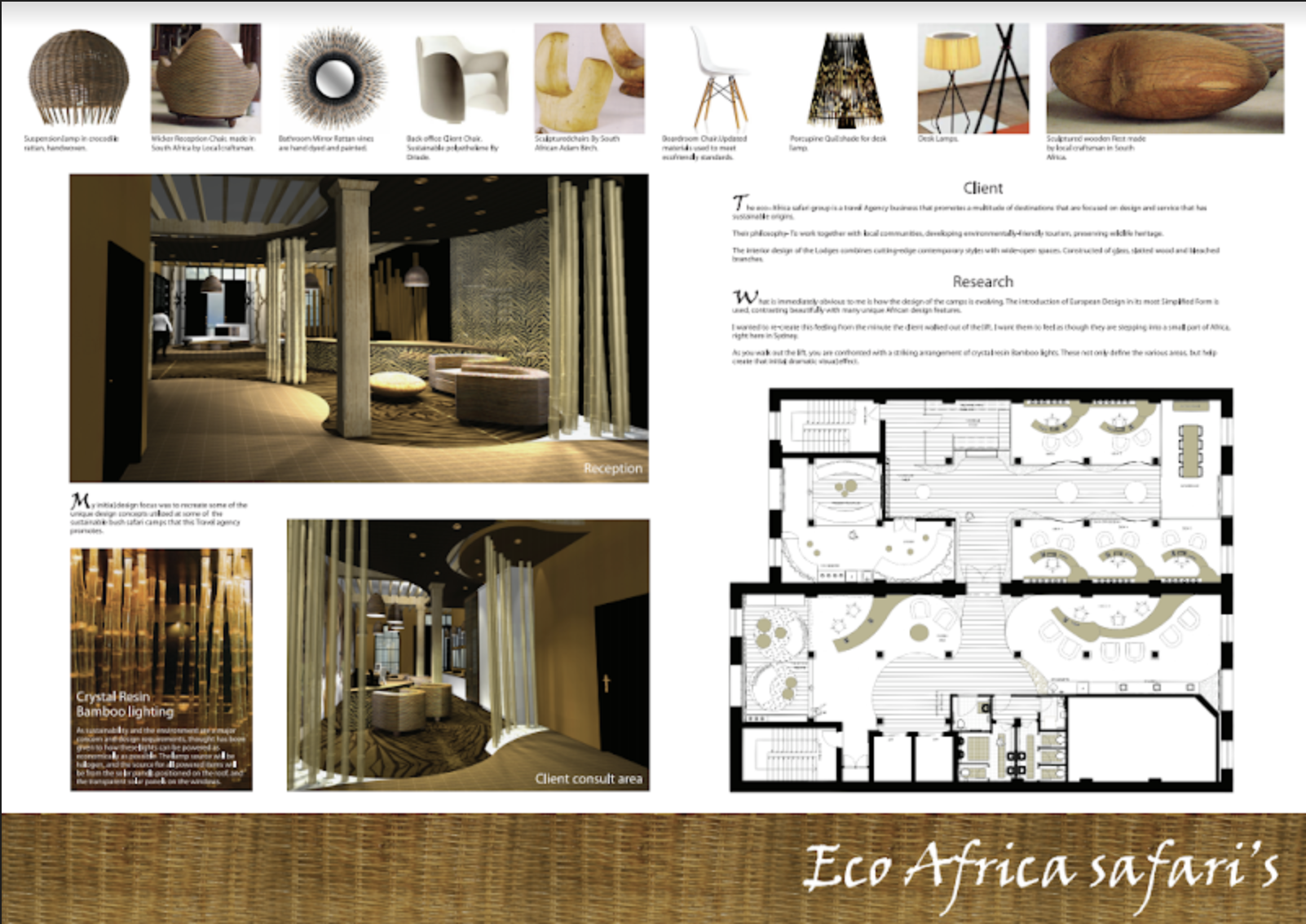 >>>>
Building an Intentional Brand.
Six years of elevating my branding skills gave me the space to understand intentional conceptual design more profoundly and how important brand positioning is in creating a Boutique Getaway.
>>>>
So my goal over the next year is:
To share the steps and resources needed to create a Getaway, or if you are redecorating your home, you can follow me when I start the design process by creating a "Lodge-Style Decor Scheme" for my new home in the Cotswolds.